Throughout my experience in digital project management, I've worked with many software platforms over the years. I've manually installing Linux operating systems onto virtual machines, and set up Oracle databases and Tomcat and WebSphere application servers. However, for the past 8 years, I've worked extensively with low-code intelligent automation platforms. After more than a dozen projects, I've become an expert on not only how the technology behind low-code intelligent automation operates, but also on how companies should think strategically to unlock the power these platforms offer.
Low-Code Intelligent Automation for the Uninitiated
Low-code intelligent automation platforms allow business users to create solutions through intuitive drag-and-drop user interfaces. They are "low-code" in the sense that they can, but often do not, involve professional coding. It is a convergence of several categories, including:
Forrester first coined the term "low-code" in 2014. Since then, the term has spread rapidly. A few examples of platforms include UiPath, Automation Anywhere, Pegasystems, Appian, ServiceNow, Salesforce, and Microsoft Power Automate.
Low-code intelligent automation promises to unlock enterprise productivity by allowing business users to build their own applications, allowing IT to focus on more critical tasks such as digital strategy, enterprise architecture, and complex systems integration.
However, many clients struggle in their journey to unlock the power of low-code intelligent automation. As a development platform, it allows you to do virtually anything. Intelligent automation can do anything that Java can do.
So the question we need to ask ourselves is, "What should intelligent automation be used to do?"
Unlock the Power of Low-Code Intelligent Automation
Intelligent automation has unparalled power to transform businesses. However, many programs struggle to unlock its potential, leaving program managers frustrated.
Traditional development is not a good fit. Modern agile and DevOps need to be tailored. However, large systems integration companies can take advantage of the confusion, adding resources to already bloated programs, rather than help clients build their own capabilities. But can we streamline a program? Cut costs and increase productivity?
Common challenges that intelligent automation programs face include:
Focus on Low-Code Strategy, Not Staffing Armies
Large systems integration companies may focus more on staffing large armies of their resources, than on helping their clients with strategic concerns.
In contrast, there is no universal approach to low-code strategy. However, there are three key things a program leader should address.
Thus, the aim of low-code strategy is to focus on figuring out which enterprise problems to solve and how to solve them.
Without a focus on low-code strategy, a program can quickly devolve into an IT science experiment, with IT making unrealistic promises for digital transformation and business quickly losing interest due to a lack of sustained success. Cost overruns and launch delays were common.
However, I've also seen programs launch to great initial success and then continue to thrive. Thus, I wanted to understand what made some low-code programs more successful than others.
I found three key activities.
Leaders of high-performing low-code programs do three things well
Speaking with clients, the conventional wisdom was that they were all looking to staff their programs with the best and brightest architects. If only they could find that one architect who truly understood how to build a solution, then they would be on their way to success.
My initial hunch was that smart architects were a necessary but not sufficient ingredient for success. Indeed, it seemed more important to build a high-performing low-code program upon more foundational concepts.
The three keys that high-performing programs tended to do well were:
Build the four key pieces of a low-code business architecture. Traditional programs often suffer from poor architecture.
Reduce program costs, not talent, along low-code principles to increase productivity by 100%.
Increase organizational effectiveness by designing high-performing teams with a culture of coaching.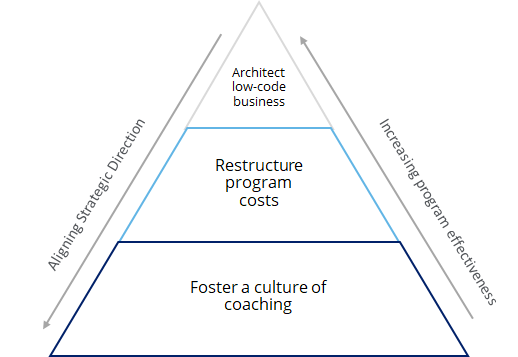 Put together, these three key activities can provide the foundation for any program to launch into high gear. Moreover, you don't need an army of the best and brightest architects to start. You just need a proper plan.
1. Build the four key pieces of a low-code business architecture
The first step is to start converting business analysts and architects into low-code citizen developers.
Traditional business architects merely gather requirements.
Low-code business architects act as citizen developers, to design four key pieces of a low-code business architecture by themselves.

Your low-code business architecture serves as the foundation for pro-code developers to follow. It is a living, breathing model, that advises developers what the system needs to do, better than any requirements document ever could.
2. Reduce program costs, not talent, along low-code principles to increase productivity by 100%
The second step is to restructure your program's talent.
Traditional programs have too many technical and too few functional resources. Instead, balance low-code and pro-code talent to increase productivity. Rebalancing a program can produce:
25% smaller average team size
50% higher average sprint velocity
100% increase to total productivity
For example, the cost structure for a typical intelligent automation program may look as follows. The functional and technical resources are spread between high-cost locations (i.e., US and Europe) and low-cost locations (i.e., offshore development centers).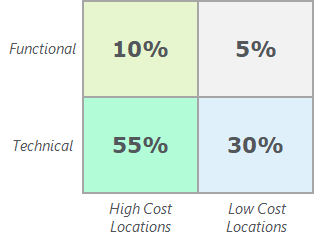 What should jump out to you is that 85% of total resource spend is on the technical side. The functional side, both from IT business analysts and from the business itself, is usually underrepresented.
We restructure an unbalanced program by adding more functional talent, and then training them to be low-code citizen developers. They could either be IT business analysts or pro-code developers who have a knack for solving business problems.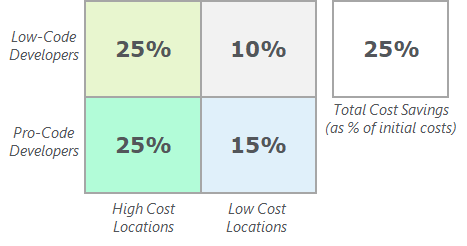 This typically leads to a cost savings of around 25% (although your mileage may vary). Of course, don't let this talent go. Invest those savings to start new projects, rather than losing out on institutional knowledge.
3. Increase organizational effectiveness by designing high-performing teams with a culture of coaching
Finally, no program, regardless of technology, can be successful without great leaders instilling a great culture.
Great leaders bring:
A clarity of purpose set by knowing whose needs we're here to meet, and
Effective collaboration by solving problems across traditional boundaries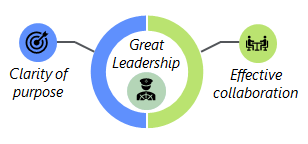 Second, traditional team structures tend to be top-down and hierarchical. They end up inhibiting communication.
High-performing teams create trust by:
Adopting a flat team structure
Built on a culture of coaching
With end users at the center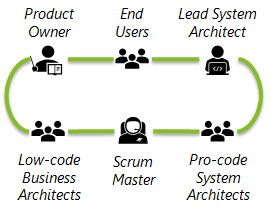 For example, in this team structure, everyone is on an equal footing with an equal say, even the end users.
How do you stay one step ahead?
Low-code should be an enterprise platform. The possibilities are virtually endless.
The journey can help unleash a company's full potential for customer engagement and intelligent automation. It can align the business and IT toward new levels of collaboration. However, it takes more than just a great technology and know-how to build a great program.
But there is a chicken and egg problem. Business needs to know how low-code intelligent automation should work to decide what it should do, while IT needs to know what the platform should do to build a system that works.
Low-code strategy focuses on bridging the gap between business and IT. Solving the chicken and egg problem requires a combination of business acumen and IT expertise.
But the payoff is a successful digital transformation for the enterprise.