At first, the role of a digital strategy consultant might seem clear. After all, digital transformation is a booming worldwide business, and digital strategy is the tip of the spear for a digital transformation initiative.
Therefore, one might think that the job of a digital strategy consultant is to help a company define its digital strategy.1 However, by the strict definition of "digital strategy" that is rarely the case.
Instead, a digital strategy consultant typically works on engagements with much more targeted scope. As a result, their primary job is to create strategic alignment between business and IT.
What Is Digital Strategy?
First, a business strategy is an integrated set of decisions, taken under economic uncertainty, designed to create competitive advantage for a firm. The essence of digital strategy is to create greater value through technology than what a firm's business strategy can alone. Digital transformation encompasses both the design and implementation of that digital strategy.
Now, as technology continues to play a greater role in every day life, demand for digital strategy will continue to grow. According to several independent estimates, the market for digital services will continue to grow at over 20% per year through 2030.
As another example, consider Google searches worldwide for the term "digital strategy." Over the past 15 years, interest has steadily increased.
Therefore, digital strategy is poised to play an increasingly prominent role in the future. And companies need digital strategy consultants to help create, refine, and implement their digital strategies.
However, most discussions of digital strategy offer a grand vision of transformation. Most case studies summarize the culmination of multi-year journeys as if the plans were drawn up that way.
In contrast, the typical digital strategy consulting engagement actually produces work that is much narrower in scope. A typical strategy engagement lasts between six to eight weeks. They often focus on one discrete area, rather than on a complete digital transformation.
Now, the sum of all such steps could be interpreted as a journey. However, they rarely are intended to be stitched together at the beginning and are almost always provided by different digital strategy consultants on different engagements working on different scope. Thus, it is a mistake to think that the primary job of a digital strategy consultant is to create a grand vision for how technology will transform a company.
A Digital Strategy Consultant Creates Strategic Alignment
Now, the primary goal of a digital strategy consultant is not to create a new digital strategy for a company. Instead, the primary goal is to create strategic alignment between the business and IT. The aim is either to:
Identify a business problem and a technology solution; or
Identify a technology problem and a business solution
In most large organizations, business and IT create their own strategies and run their own operations. Our goal in digital strategy is to manage the relationship between business and IT and to create consensus between business and IT leaders on a path forward.
The set of deliverables should include:
A strategic alignment plan (based on the scope of the engagement)
A roadmap from the current state to a future state
A transition plan for the consulting client to execute the roadmap
Now, consider a simplified version of the classic strategic alignment model below.2 There are four domains: business strategy, IT strategy, business operations, and IT operations. Each arrow identifies one possible alignment path.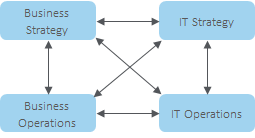 A typical digital strategy engagement should align one area with another area. More complex engagements could align multiple areas together. However, for simplicity, we will consider such examples as separate engagements or as separate phases of a large engagement.
This article addresses the following four types of strategic alignment, labeled 1 through 4 in the diagram below.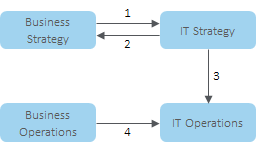 Let's name the four as follows:
Technology potential
Technology differentiation
Operational improvement
IT prioritization
Now, there are many more alignment paths. For example, the original authors of the strategic alignment model proposed four alignment perspectives. Each perspective consisted of two steps (i.e., two arrows), covering three areas.
However, for simplicity, this article covers these initial four single-step alignment paths. They represent the most common types of digital strategy engagements.
1. Technology Potential
In the first and most common type of strategic alignment, the firm looks to create or maintain a competitive advantage by addressing a business problem with a technology solution.
In technology potential, the digital strategy consultant assists the business unit in analyzing a problem, in articulating why addressing this problem delivers competitive advantage, and in identifying technology solutions to address the problem. Consultants then assist in software vendor selection, in developing a roadmap from the current state to future state, and in planning the implementation.
In contrast, "classic" non-digital strategy involves either creating competitive advantage without the use of technology, or formulating a new business strategy with the intent of creating strategic alignment with IT in a later engagement.
Examples of the technology potential paradigm include:
A brick & mortar retailer wants to create an online shopping channel for its customer base. They decide to partner with an e-commerce platform to establish a foothold before their competitors.
An automotive parts manufacturer wants to shift from selling individual automotive parts to selling integrated automotive systems. They need to develop an integrated technology platform to encourage their suppliers to join their ecosystem.
A leading global professional services firm wants to establish a foothold in an emerging line of business by acquiring a large competitor. They need an IT strategy to integrate the two firms' IT systems, to operate as a single business.
Note that, in each case, the company aims to create or maintain a competitive advantage. This bears repeating: unless the engagement intends to develop competitive advantage, then it is not digital strategy. It is simply work that happens to be digital.
2. Technology Differentiation
Now, in the strategy execution paradigm, business leads IT. In contrast, in the technology differentiation paradigm, IT is the strategic leader. Our goal is to create competitive advantage by developing new business opportunities through the strategic use of technology.
In this paradigm, IT explores the art of the possible either with a new technology platform or with the new use of an existing technology platform. Then, they aim to align with business strategy to realize that opportunity. Without strategic alignment, the technology becomes a hammer looking for a nail.
Examples of the technology differentiation paradigm include:
A SaaS company plans to develop a new product for its existing customer base. They need a go-to-market strategy to commercialize the new product.
A multinational manufacturing company wants to simplify its IT landscape by consolidating to a single enterprise resource planning (ERP) system. They believe this will increase operating efficiency and allow them to maintain a low-cost competitive advantage.
A mid-size financial services company plans to outsource its IT department to a leading technology company. It aims to create better service at a lower cost, by tapping the technology company's economies of scale.
Again, it bears repeating that an IT project counts as digital strategy only if it leads to competitive advantage. Otherwise, we are just developing IT plans. Now, IT planning itself is a critical function. An IT department cannot function without plans. However, IT planning is not the same thing as digital strategy.
3. IT Prioritization
Next, the IT prioritization approach involves aligning IT strategy to IT operations. The goal is to create competitive advantage through a world-class IT organization that offers a differentiated level of service to the company's business users, relative to the competition. The company's business operations, then, deliver a winning value proposition to customers.
This is the only one we cover that does not directly involve the business. However, it is still an important type of digital strategy work, in that the implementation of IT prioritization will create better IT services for business units, which will allow business units to deliver better service to customers.
Examples of the IT prioritization approach include:
A fintech B2B payments platform wants to create a new strategic platform that can settle transactions more efficiently than competitors. They prioritize the adoption of a modern technical stack to retire legacy systems. They believe this will allow them to offer better service at a lower cost.
A third party logistics company wants to expand the scope of IT by developing their own logistics engine and retiring their current commercially purchased platform. They decide to partner with a software engineering firm. They believe customers will pay a premium for their proposed unique logistics solutions.
Once again, the key to IT prioritization is the creation or maintenance of competitive advantage through world-class IT service from a world-class IT organization. In contrast, many projects claiming to be digital strategy offer IT plans that do not create competitive advantage. While maintaining and improving IT systems is a necessary function of IT operations, we should avoid labeling such projects as "digital strategy" if they are not intended to deliver competitive advantage.
4. Operational Improvement
Finally, in operational improvement, we seek to improve an area of business operations through a change in IT operations. The goal can be to deliver better service to customers, so that they are either more willing to purchase our products or willing to pay more for our products, as a result of this improvement. Or the goal can be to deliver the same level of service to customers, at a lower cost, thereby increasing profit.
Business process reengineering is a common form of this paradigm. We redesign a business process so that it is more efficient, less costly, or less error-prone. Then, we implement an IT solution that automates or orchestrates the business process.
Examples of the operational improvement paradigm include:
A market-leading consumer products company wants to turn their category leadership into a competitive advantage in operational efficiency. They look for an end-to-end supply chain planning tool as a technology solution.
A top-tier bank wants to maintain its competitive advantage in customer service. They decide to build a new service operations platform that is uniquely tailored to their customer value proposition.
A marketing agency wants to lower its cost of service, by offloading repetitive low-value work, freeing up employees to focus on more creative work. They partner with an outsourcing and automation services provider to kick-start the initiative.
Now, the key to operational improvement is to ensure that we actually create more value for customers. If the resulting improvement does not create customer value, then it will not deliver competitive advantage. On the other hand, if the goal is to reduce cost but the IT implementation does not actually improve business service, then we are also not doing digital strategy. We simply have an IT science project.
Takeaways for the Aspiring Digital Strategy Consultant
In the end, as demand for digital strategy continues to grow, it becomes even more important to clarify what digital strategy is and what a digital strategy consultant should be doing. Rather than trying to deliver a grand vision of digital transformation to client executives in one move, a digital strategy consultant's role is to create strategic alignment between the business and IT.
There are numerous ways that one can do so. This article has covered four possible approaches. They involved business strategy, IT strategy, business operations, and IT operations. A digital strategy engagement should align one of these areas with another area.
Lastly, for the aspiring digital strategy consultant, there are lessons to consider beyond this article.
First, become comfortable with the theory. For instance, Michael Porter covers the concept of competitive advantage in his book. The classic article on the Strategic Alignment Model is also worthwhile reading.
Second, learn the language of both business and technology. While deep expertise in technologies such as cloud architecture or data science are not necessary, we need comfort with digital literacy. We also need the ability to speak to business leaders with business terminology.
Third, develop the digital leadership skills required to lead. Beyond formulating the theory, the most difficult challenges in digital strategy are change management and securing client buy-in. Digital leadership skills such as creating a vision and owning the digital transformation are indispensable.
With the right training and experience, anyone can become a great digital strategy consultant.
Footnotes
In this article, the term "digital strategy" refers to a digital business strategy. In other contexts, some authors use it to mean a "digital marketing strategy." However, the term here refers to a strategy encompassing all aspects of business, including marketing.