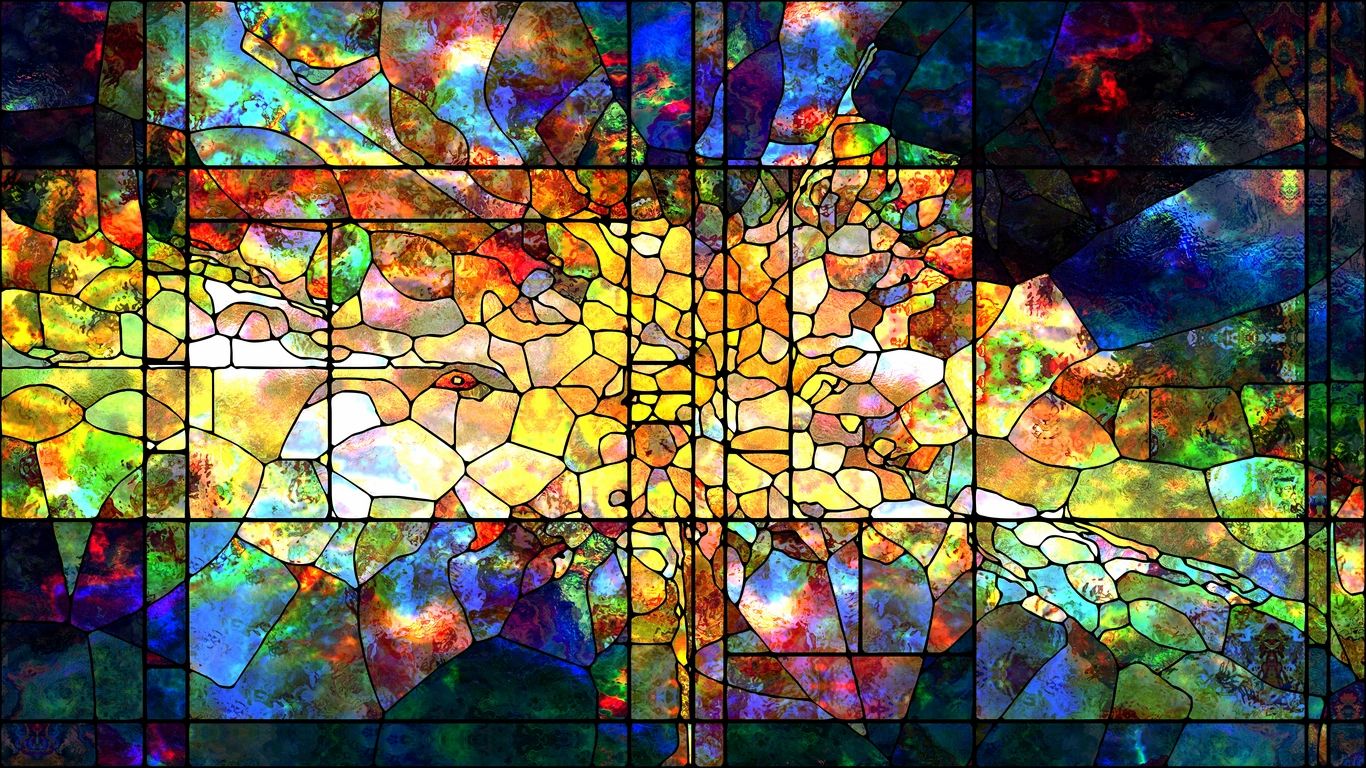 A digital operating model is the bridge between digital strategy and digital execution. It represents a combination of organizational structure and processes for how a firm creates value. Without an operating model, there is only uncoordinated individual activity and organizational chaos. Thus, a well-functioning firm requires a well-defined operating model.
So establishing a digital operating model is one of the first steps in an organization's digital transformation. Everyone agrees that you need to get the model right. Moreover, it needs to evolve over time. As the firm changes, so too should the operating model.
However, implementing a model has always proved difficult. First, there are hundreds, perhaps thousands, of variations we can consider. Second, finding the right starting template is a challenge. Every consulting firm offers its own starting point. Lastly, the model is only a starting point, but little advice exists on how to implement one effectively.
So how can we make sense of the wide world of digital operating models? Rather than thinking about the realm of possible starting points, it is easier to think of categories of models. In essence, there are three categories of digital operating models to consider:
The traditional IT operating model
The functional digital operating model
The capability digital operating model
Each category has its pros and cons. Selecting the right category depends on the situation and organizational structure of the firm.
The traditional IT operating model
In many firms, there is a separation of duties between business and IT. Thus, business-IT alignment is important. In this case, the firm's IT strategy must be capable of supporting and executing its business strategy, and the IT operating model must be capable of executing that IT strategy.
For example, consider the following traditional IT operating model1.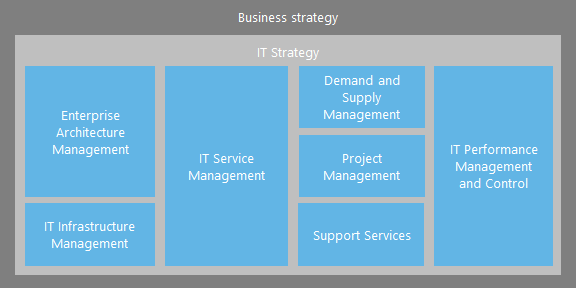 Here, the IT operating model contains seven components. We can use standard frameworks to build each component. For example, the Zachman Framework and TOGAF offer an excellent starting point for enterprise architecture management. The IT infrastructure library, or ITIL, is an excellent guide to IT service management. PMP provides the quintessential guide to Project Management.
The traditional IT operating model offers an excellent starting point to building a high-performing IT department. However, it may be challenging to apply when digital transformation blurs the lines between business and IT.
The functional digital operating model
While the traditional IT operating model is an excellent tool to build a high-performing IT department, it will not power a full digital transformation. Business strategy and business operations would remain unchanged. In contrast, a digital operating model should depict how both business and IT will be reorganized.
For example, consider the following two example operating models from Accenture. On the left is one variant. Both digital strategy and digital execution are embedded in each business unit. Technology infrastructure spans the firm's business units. This is all powered by a Digital Center of Excellence (CoE) that supports strategy, execution, and infrastructure.
On the right is another variant. A centralized, integrated digital platform powers the firm. Both Strategy & execution and technical infrastructure span across business units. The traditional boundaries between business and IT no longer exist.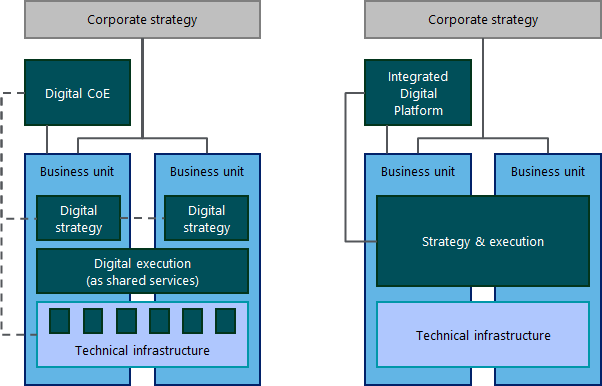 Digital natives such as Amazon and Netflix operate under a centralized model. An integrated digital platform (such as an eCommerce platform powered by AWS for Amazon and a streaming content delivery platform for Netflix) powers the firm. Each business unit builds its strategy, execution, and infrastructure upon that centralized platform.
As another example, consider the following operating model from Deloitte. We imagine a firm with three lines of business (consumer, SMB, and enterprise). A digital enablement center of excellence and managed services spans the firm's products and services across business lines. Business operations is powered by supporting technology, such as configure-price-quote (CPQ), billing, and customer support.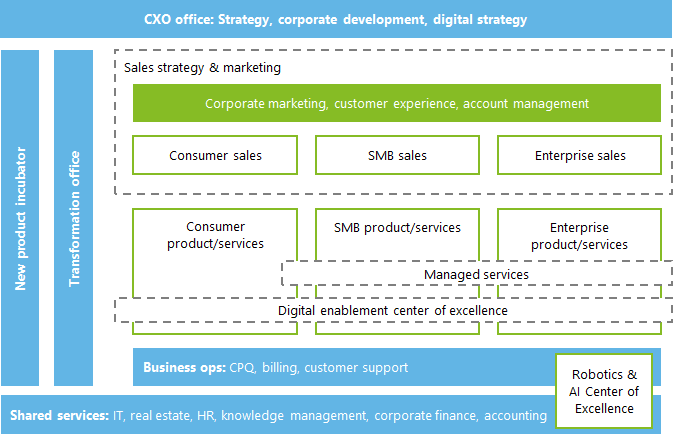 The functional digital operating model offers an essential starting point to rethinking the business of the entire firm. However, it does not include the new digital capabilities that the firm will need to execute its digital transformation.
The capability digital operating model
The third approach is to begin by defining the digital capabilities that the firm requires. If we believe that the key to successful digital transformation is digital mastery, then we should cultivate the digital capabilities that will enable us to use innovative technologies to transform the business.
For example, in an article from MIT Sloan Management Review, Didier Bonnet and George Westerman outline the 5 components and 15 new elements of digital capability they believe a firm needs to become a digital master2.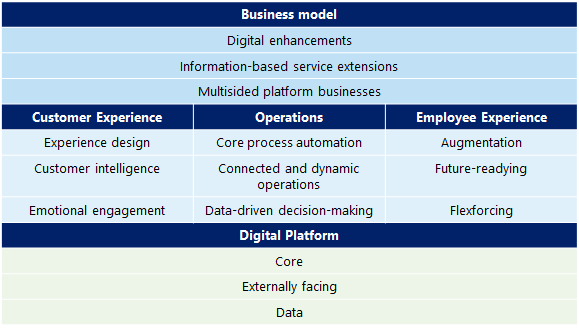 Thus, regardless of the firms themselves, all firms have a business model, offer some customer experience, execute business operations, and provide a employee experience. And none of these components can achieve their full promise without a clean, well-structured digital platform.
The capability digital operating model offers an excellent complement to a functional model. It provides guidance on what the firm needs to achieve, whereas the functional model describes how the firm should be organized to achieve it. Moreover, a firm can create operating models for individual capabilities, such as a data and analytics operating model for data-driven decision making.
However, starting a transformation initiative with two frameworks may require an inordinate amount of structure and governance. It may be overkill for a smaller organization.
Takeaways
In the end, adopting a new digital operating model will be a challenging endeavor. There are hundreds, if not thousands, of variants to consider as a starting point to define the model. Moreover, implementing the model can take years and introduce risk and disruption to daily business.
Thus, it is helpful instead to think in terms of categories of operating models, and then to select the right category to adopt. In the end, a firm that has successfully adopted a new operating model may gain a competitive advantage in the race to reap the benefits of digital transformation.
Footnotes
Thorogood, A., Gewald, H., & Brune, P. (2012). IT Operating Models In Practice And Research: An Analysis Of The State Of Knowledge. PACIS (p. 85).