As traditional IT Strategy shifts to accommodate a new digital world, the role of business integration teams has transformed from taking orders to leading the charge.
Digital strategy involves new operating models. Thus, senior leaders must integrate business and IT teams in order to construct new digital resources and capabilities.
The Strategic Alignment Model for Business Integration
Traditionally, IT strategy has been defined by the alignment model for the past 30 years.
In the classic alignment model, business and IT are distinct units and formulate distinct strategies, which senior management must keep in continual alignment1. Thus, either business formulates strategies for IT to implement, or IT enables for new business capabilities for the business to execute. The focus is on integrating the business and IT domains and aligning the external and internal domains of IT.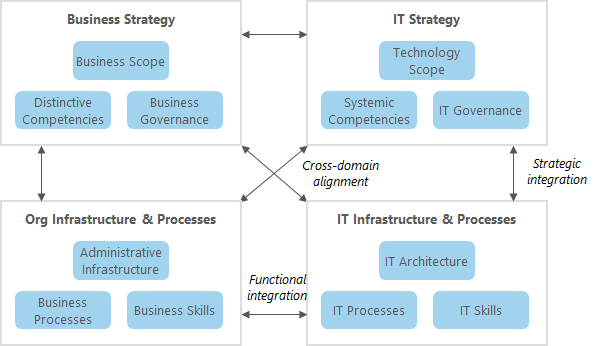 The Rise of Digital Natives
However, the strategic alignment model is more applicable to industries in which IT is less complicated and business strategy more stable. Rather, companies born in the digital age have achieved remarkable success by embracing strategies that do not even separate business strategy and IT strategy. Consider the following:
| | |
| --- | --- |
| | The alignment model does not account for the synergy between selling books and offering cloud computing services for Amazon |
| | Netflix needs no distinction between its business strategy and IT strategy, but rather is in the business of delivering streaming video as an IT service |
The Fusion Model for Digital Strategy
So what happens when the company is in the business of IT? With digital natives, there's been a trend toward the fusion model.
In the fusion model, a firm constructs a set of digital resources and capabilities, where the boundaries between business and IT may be unclear or even unnecessary2.
Thus, executives who have just defined the alignment models for their IT and business units, now face pressure to implement new integration frameworks.
For example, by 2016, 19% of large public companies had a chief digital officer, with the most in insurance (35%), telecoms & media (28%), banking (27%) and consumer products & retail (27%)3. Moreover, IT leaders now increasingly drive transformation via digital initiatives to redesign core business operations.
Digital Strategy Must Address Both Emerging Issues and Legacy Challenges
Developing digital strategy is a tale of two cities. On the one hand, executives are busy preparing for digital disruption in their industry, while on the other hand, legacy systems still encumber core business operations.
In one recent survey, 87% of professionals surveyed anticipate disruption in their industry, yet only 44% felt adequately prepared for digital transformation4.
In another survey, 30% of vice presidents and directors who do not have enough digital opportunities are at risk of leaving within one year5.
Moreover, cost reduction was long the major motivator for process initiatives, but now the focus is on digital transformation and customer experience, according to Forrester6: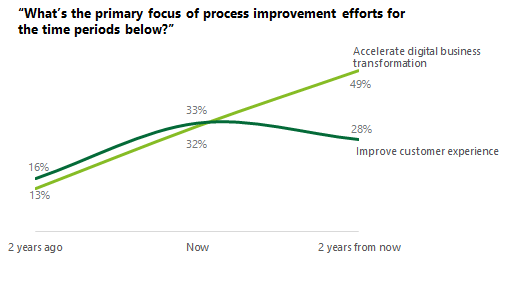 However, legacy systems still remain supreme in many firms. A legacy system is any business critical software system that significantly resists modification, but whose failure can jeopardize core business operations
While they are viewed as reliable applications with proven technology, legacy systems are also inflexible, expensive to maintain, and lacking a network of experts. Thus, a primary aim of digital strategy is to modernize both legacy systems and the core business operations they support concurrently.
Indeed, in one study, the top driver for legacy system modernization was to develop flexibility to change7: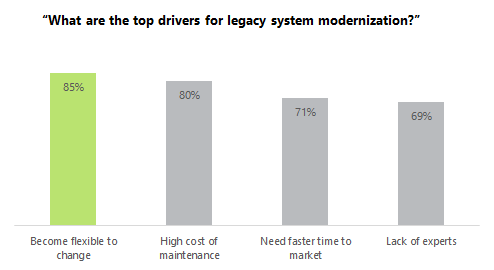 Where Do Business Integration Teams Go From Here?
Traditional systems integration teams now increasingly serve as business integrators. They are tasked with creating digital solutions to business issues both new and old. In this new regime, executives need an equal emphasis on:
A strategy focus
An execution focus
A transformation focus
Strategy Focus
Without a flexible digital strategy, a company risks falling into a rigidity trap. Here, inflexible links between business and IT can impede the ability to respond to rapid environmental changes.
For example, one way to achieve flexibility is by developing API-enabled capabilities. With companies now more interconnected than ever, joining the API economy is critical to any firm's survival: digital leaders API-enable more capabilities than digital laggards8.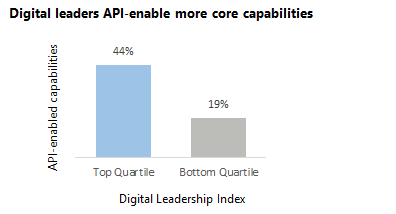 Execution Focus
Implementation programs stall when efforts lose focus and governance models fray. This leads to scope creep, cost overruns, mounting technical debt, and analysis paralysis.
A successful digital transformation should maintain focus on improving customer experience and improving operational efficiency. On when we focus on both, does digital transformation create shareholder value9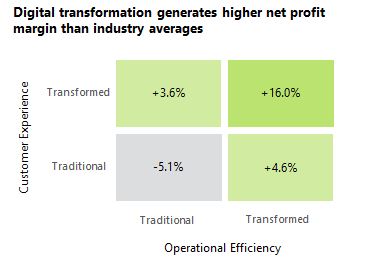 Transformation Focus
All too often, business transformation fails to address structural problems with legacy IT applications, while application modernization fails to address the underlying reasons for inefficient operations.
Therefore, organizations need a unified approach to digitize both operations and applications concurrently.
For example, according to one study, improving business process capability is more impactful than improving IT deployment capability, but it's when both capabilities are top-performing that we hit the productivity sweet spot10: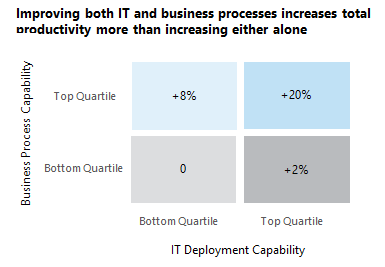 Conclusions for Business Integration
In an era of accelerating digital transformation, strategic alignment between business and IT is now more important than ever. IT leaders should not be content with taking a backseat to business initiatives. Instead, more IT leaders drive business transformation themselves by undertaking digital initiatives to redesign core business operations.
Thus, traditional systems integration teams increasingly find themselves pressed into service as business integrators, tasked with finding digital solutions to sustain competitive advantage. It is imperative that firms rethink the nature of integration services in terms of three key goals: driving digital strategy, coordinating the deployment of digital assets and capabilities, and modernizing core business operations.
Footnotes